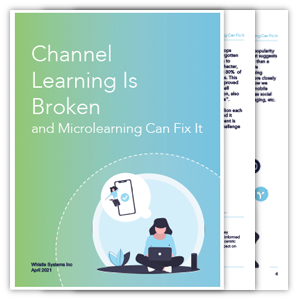 White Paper
Channel Learning is Broken


and Microlearning Can Fix It
What's Inside?
Whistle takes a look at microlearning and how it is producing better business outcomes - productivity, retention, customer satisfaction and sales all benefit form a better learning format.
A recent Whistle survey of 250 sales channel professional, 76% said they are more effective at selling when well informed about their product, and more the majority want better training programs. Both research and feedback indicate for most people learning is broken.
Learn more about the benefits of microlearning and how Whistle created a platform to put the right information in the hands of the right people, at the right time.